25 Sexy Harley Quinn Pics
Updated: 07 Oct 2019 9:59 pm
Harley will always be a fan favorite.
Sexy Harley Quinn never gets old
Cosplayers have this knack for always adding something of their own to a cosplay, and to say two cosplays are exactly alike is disingenuous. Fans everywhere have always loved Harley, even when she was only meant to be a small side character in her creation. Below I have gathered 25 of what I think are the best Harley Quinn cosplays (in no particular order).
25. Captain Irachka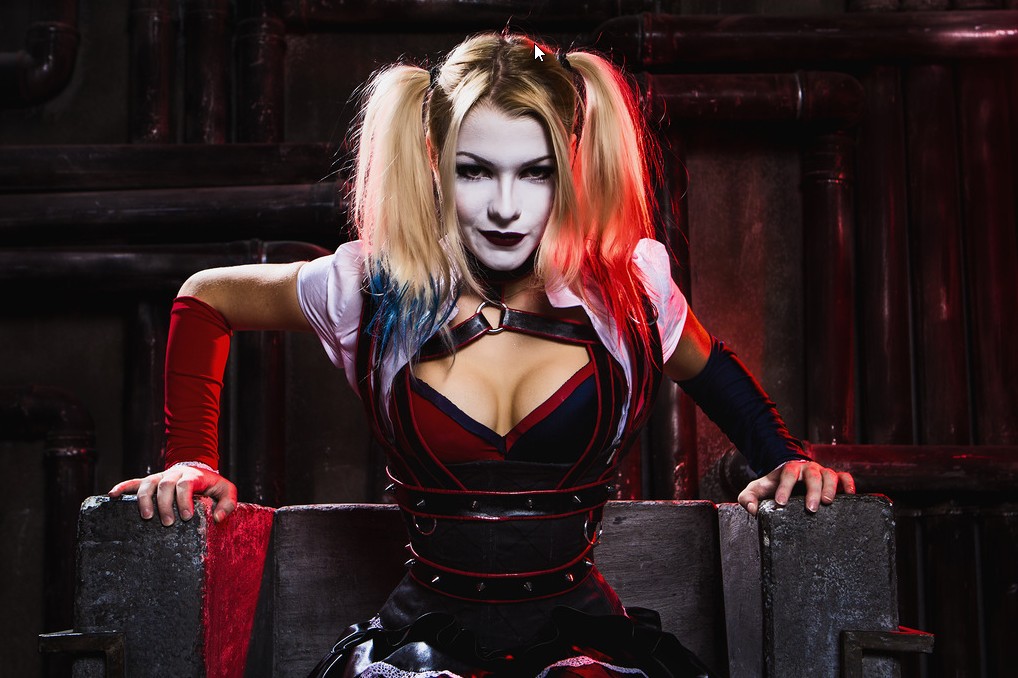 Harley Frances Quinzel was once a psychologist for the criminally insane at Gotham's Arkham Asylum.  As the asylum's main therapist she was responsible for the rehabilitation of its criminally insane, but unfortunately she fell victim to mental illness herself. Captain Irachka captures Harley's signature grin wonderfully in her cosplay!
24. Kayla Erin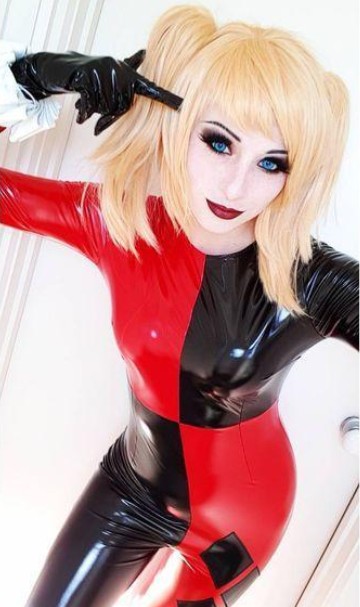 Harley Quinn is an amazing athlete, and when she isn't attempting to smash you with her hammer she often is using her acrobatics that can rival Catwoman at times. Kayla Erin's suit has few accessories to get in the way of work - also reminiscent of Catwoman's design!
23. Jessica Nigri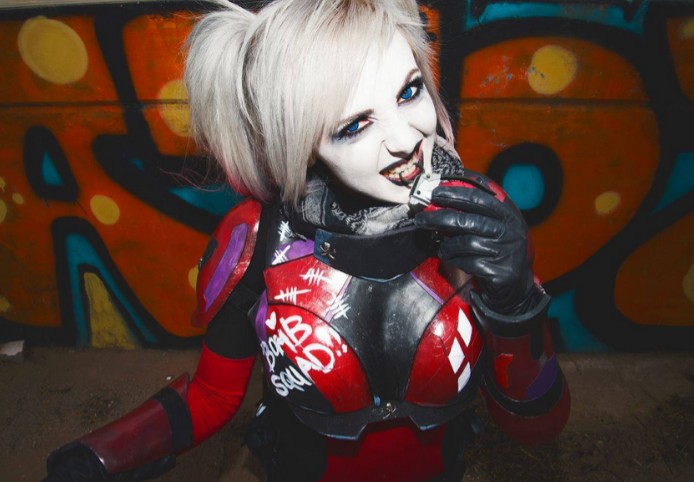 While Harley is known for her weird arsenal of weapons, some sweet armor like Jessica Nigri is touting could do her a world of good.
22. Andrasta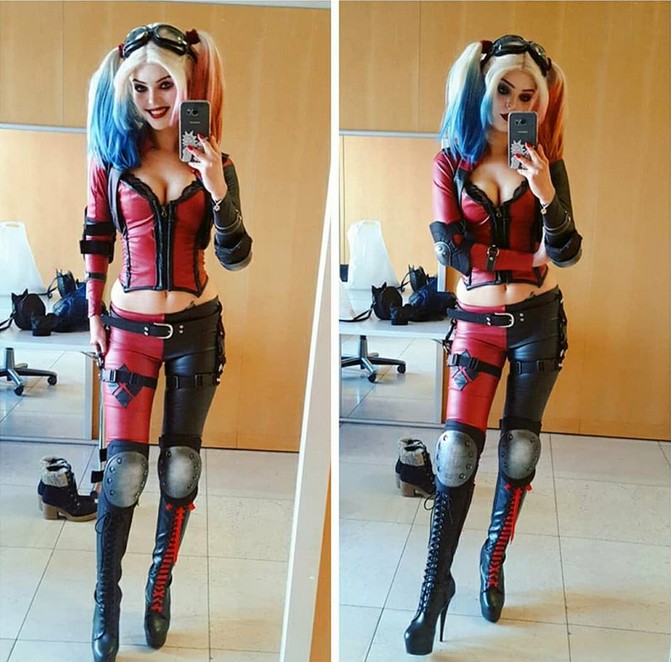 This newer, duo-chrome design of Harley's hair really has great vibes to it, and Andrasta's makeup and hair in this shot really does a great job of showcasing it!
21. AngieStarr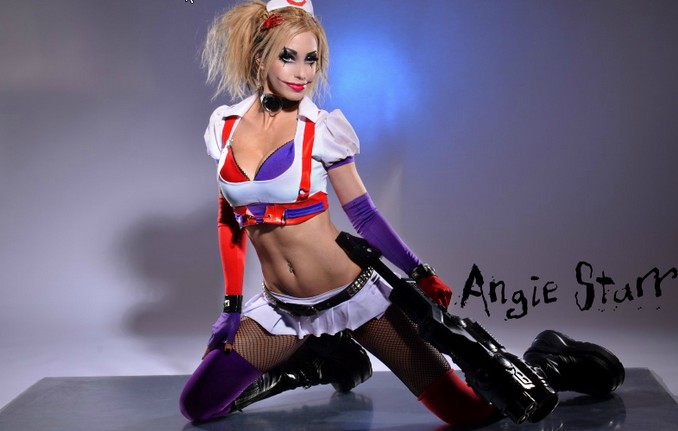 Angie Starr does a great take on Harley, the mad nurse theme with the giant gun is a great idea, plus the details like the smile on her headpiece is perfect!
20. MiuMoonlight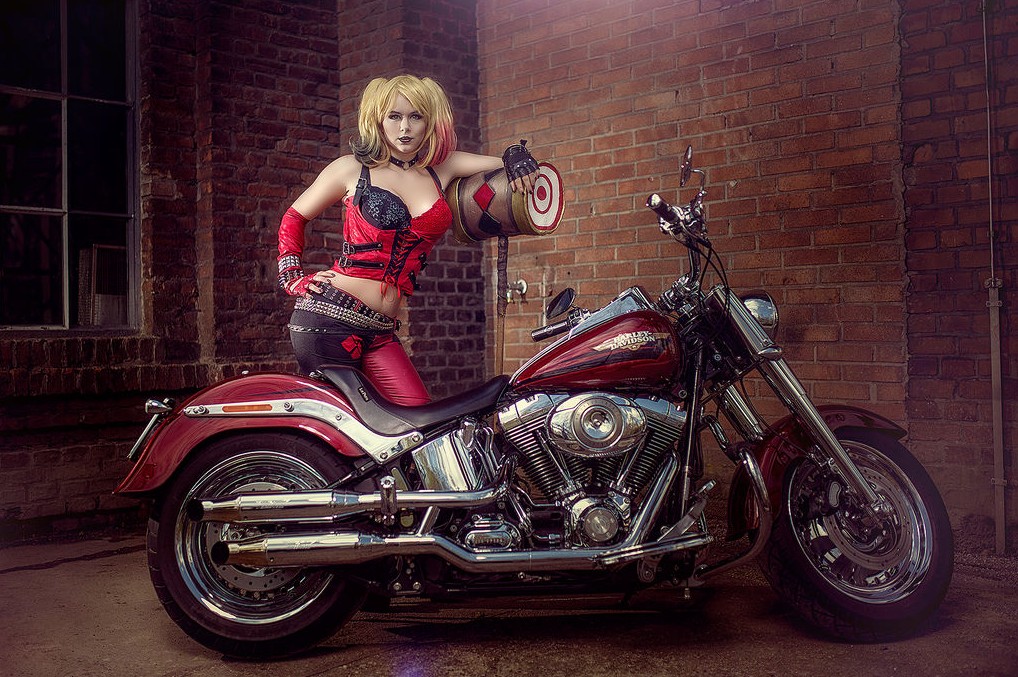 This cosplay is not only super detailed and absolutely stunning, but the Harley pun? Come on, what's not to love?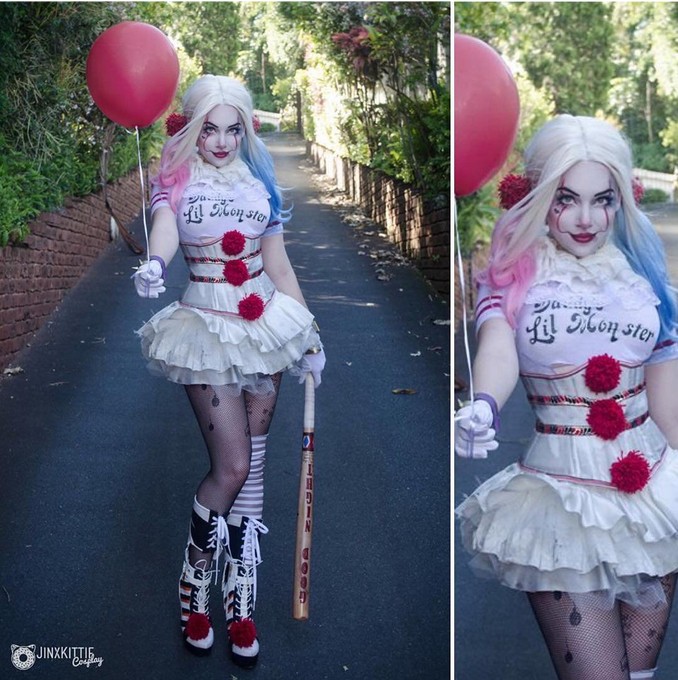 Harley Quinn has a great jester theme, but JinxKittieCosplay turns it up to 11 with her IT crossover cosplay. What a fantastic idea!
18. Thelema Therion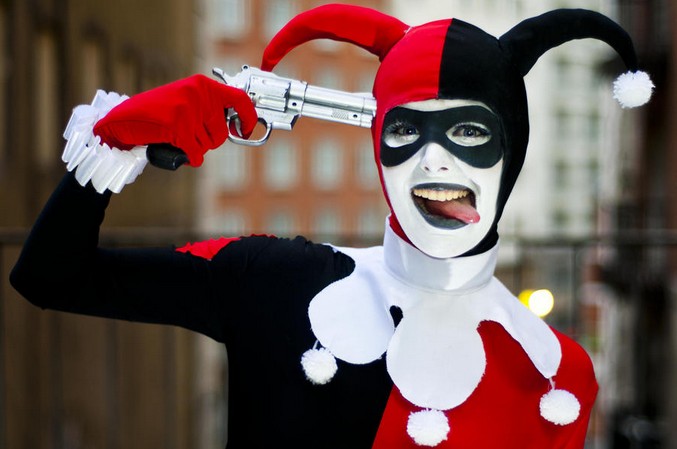 Mad Love, the 1994 comic, tells of Harley's origins and her descent into madness fueled by the Joker. Thelema does an amazing job at recreating this vintage design in her cosplay!
17. Jasdisney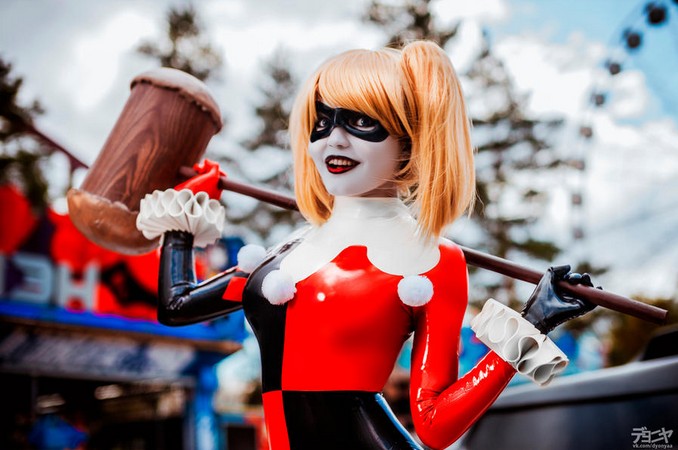 The traditional mask doesn't do much good at disguising her identity, especially when she carries that giant hammer around.
16. MicroKitty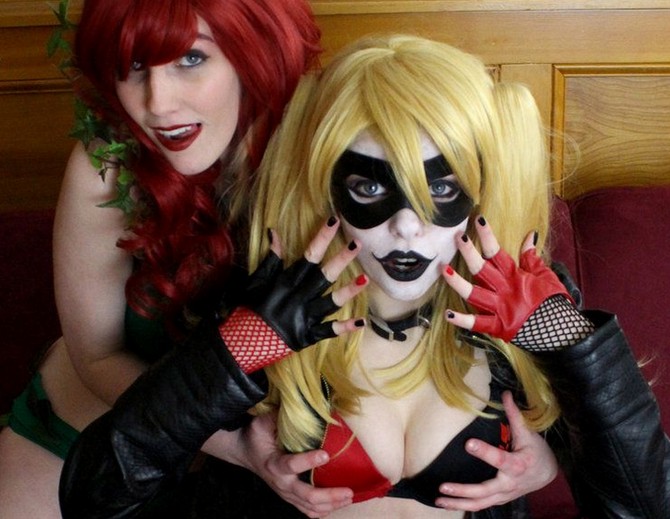 Let's be honest, everyone knows Poison Ivy is better for Harley than the Joker. Here our Poison Ivy is Ryuu Lavitz.
15. Kitty Young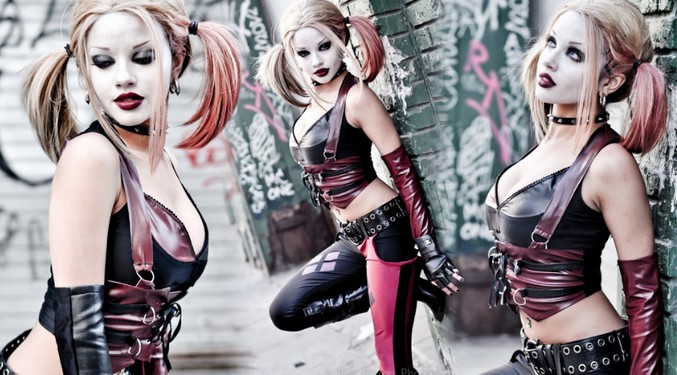 Harley Quinn often joins up with Poison Ivy and Catwoman, famously in the Gotham City Sirens.
14. AsherWarr
People speculate that Harley's hammer can be wielded by her due to her shocking strength. The details on the hammer in this cosplay are superb, and I love every tiny detail!
13. Beethy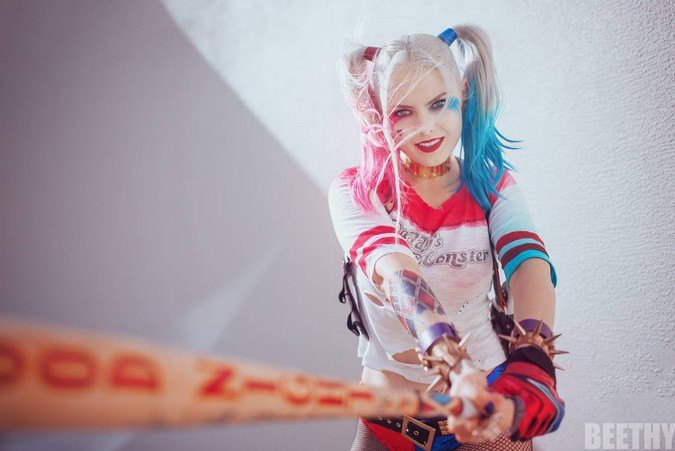 Margot Robbie really played a great Harley Quinn. Beethy does a great job with that iteration of the character, and looks shockingly similar to Margot as well!
12. Stephvanrijn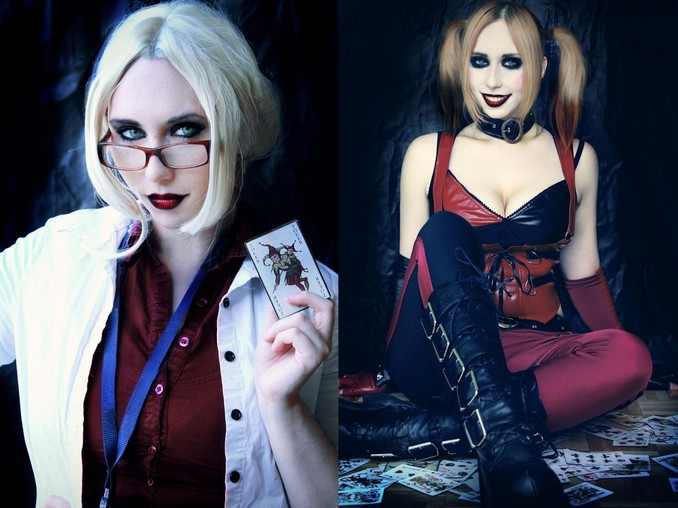 I love when cosplayers do Dr. Harleen variants! The side-by-side on this is amazingly done, and I love the continued use of playing cards within both photos.
11. Luna Lanie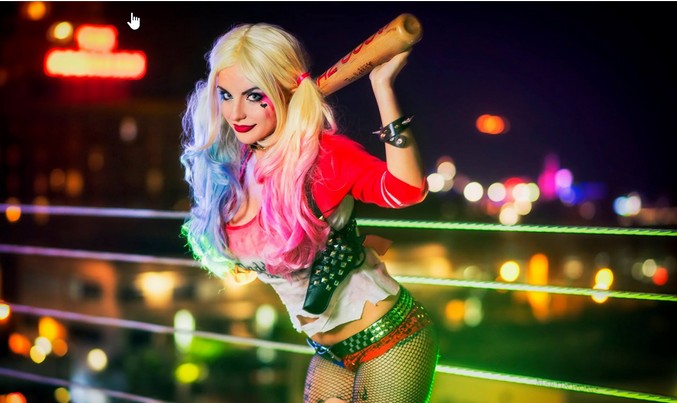 Harley's hair in her new design has become a huge part of her trademark. The wig used by Luna for this cosplay is gorgeous, and the coloring is amazing with the lighting!
10. Lindsay Lohan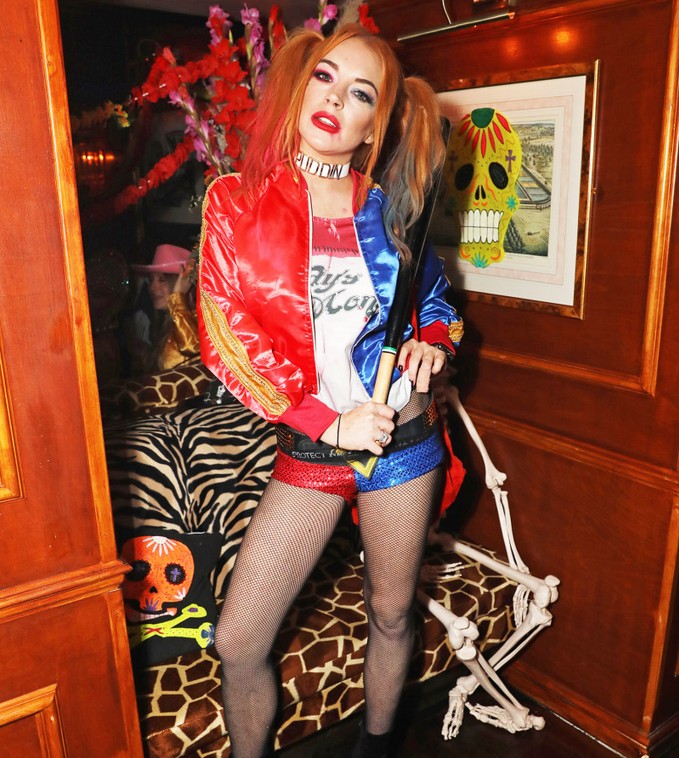 Lindsay Lohan may not be a classic cosplayer, but it is always fun to see celebrities do takes on characters we love!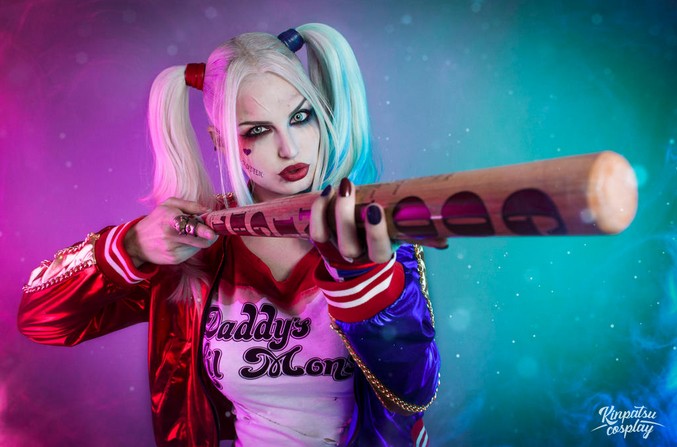 For a weird bit of trivia, Harley Quinn and Poison Ivy once unironically were in a folk music duo together. Obviously her recent design wouldn't work well will that vibe.
8. UncannyMegan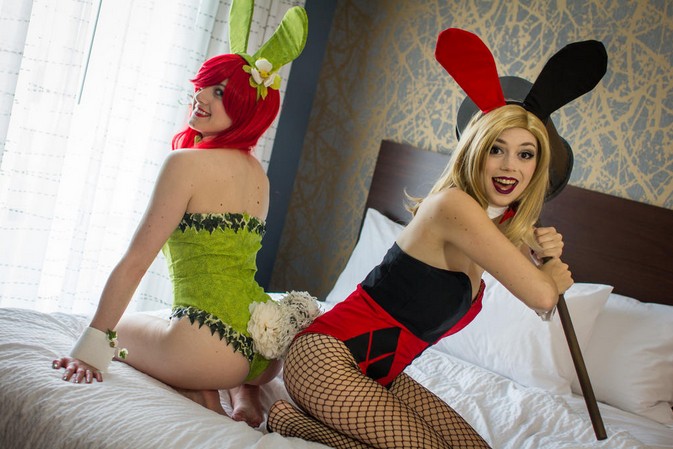 https://www.deviantart.com/uncannymegan/art/Bunny-Suit-Harley-Quinn-and-Poison-Ivy-Cosplay-707581628
The Harley and Poison Ivy duo is really a classic. I love when people do themed cosplays, and that both a Harley and a Poison Ivy did these adorable bunny suit versions together is perfect!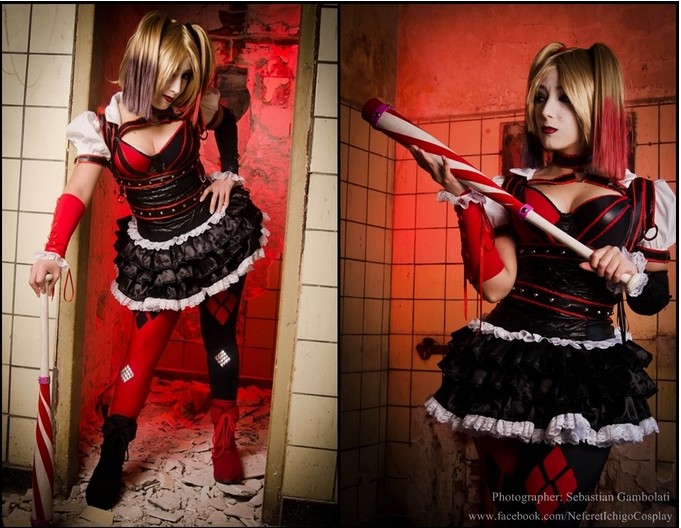 Harley Quinn isn't a stranger to looking cute while also being rad as hell, this skirt design is beautifully executed by Neferet Cosplay, and the lace detailing is perfect!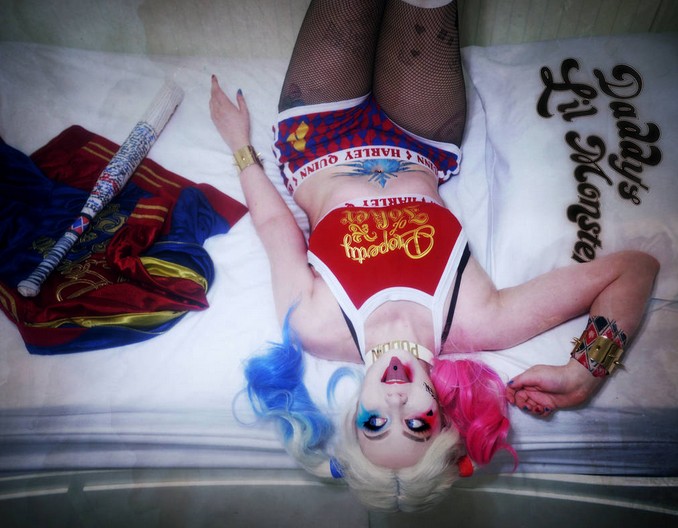 I am in love with the casual outfit this cosplayer used! Every detail about this cosplay is amazing.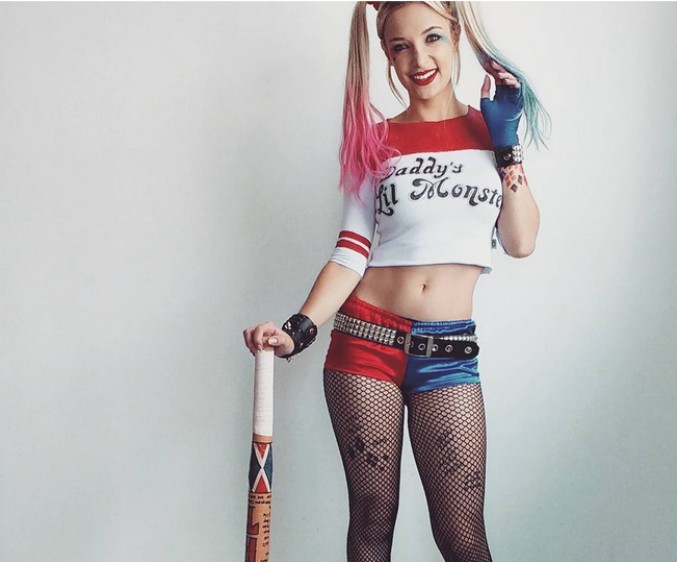 I love the "Harley Next Door" vibe that this cosplayer has created, though I'm still not sure if I would want Harley as a neighbor...
4. Pionkor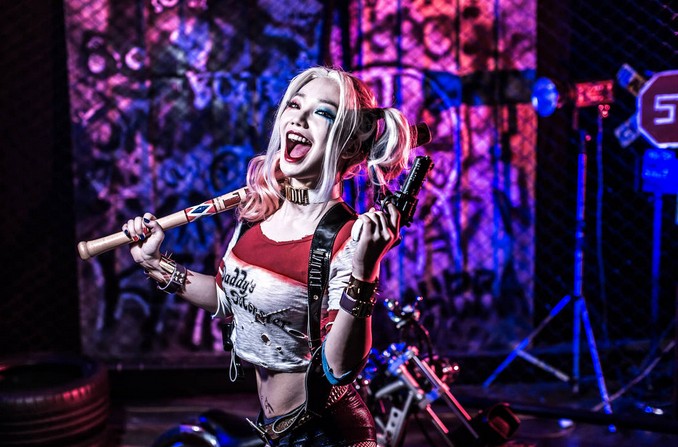 It isn't our Harley without the crazy. The expression that is using is exceptional.
3. Alyssa King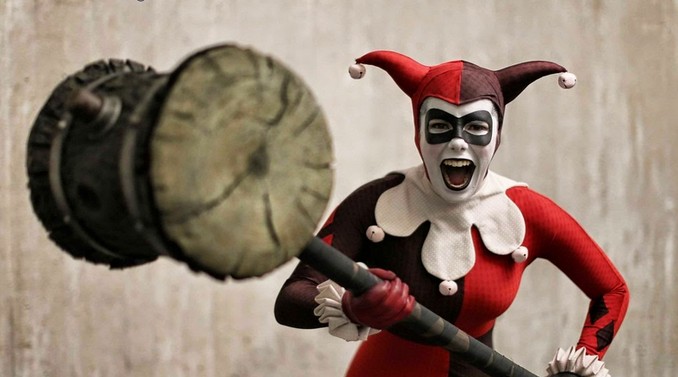 The detail on the hammer for this cosplay is beautiful, and again the expression is perfect!
2. ZombieBitMe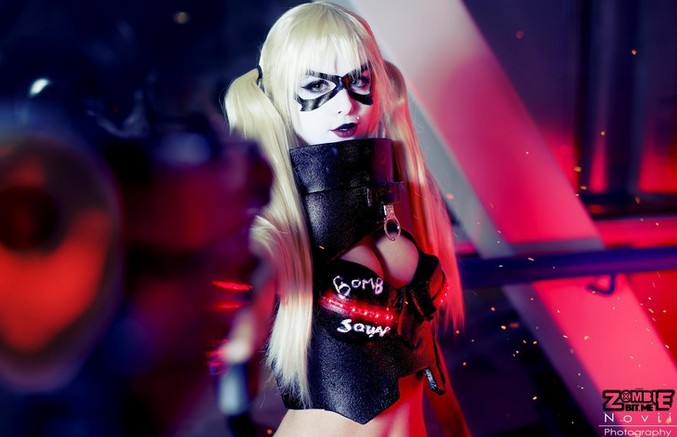 Wonderful things happen when cosplayers do unique designs for characters. Here, Zombiebitme shows us how armor can be both functional and sexy!
1. Marika Greek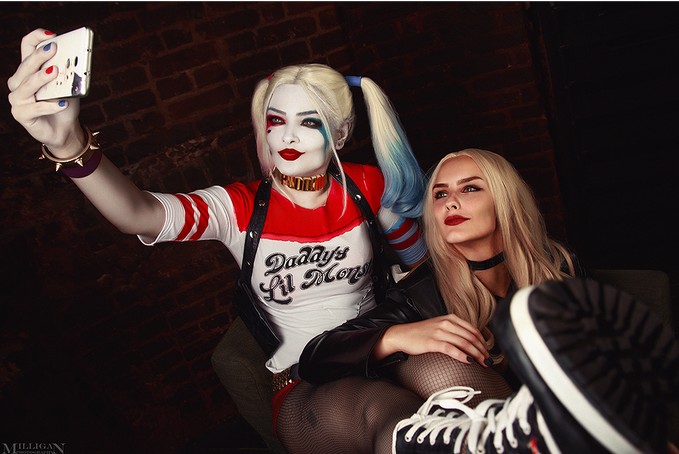 Every part of this cosplay is flawless, and a cameo from JerryRevy as Black Canary? You can't go wrong with the Gotham City Sirens.
You may also be interested in:
Image Gallery