25 Sexiest Pictures of Catwoman
Updated: 07 Oct 2019 11:01 pm
By cosplaybutterfly.deviantart.com/art/CatHip-461608201
Top 25 Sexiest Photos of Catwoman of All Time!
1.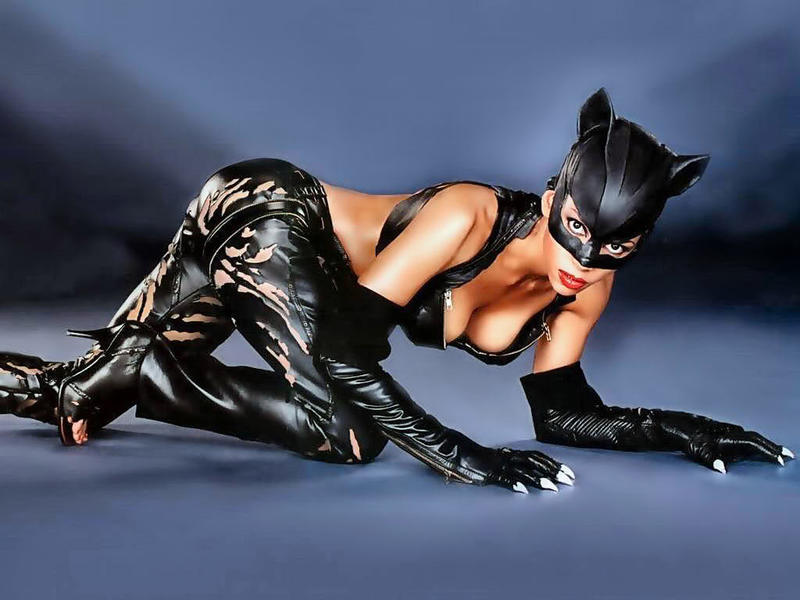 Any number of moviegoers and comic fans alike will agree that Halle Berry's ability to crack that whip places her in the number one spot on the list, and she looks like she's here to stay!   
2.

Nothing says sexy quite like Michelle Pfeiffer in all black leather and that one of a kind bad girl attitude, coming loose at the seams. Placing in at number two, she set the stage for all that is right with female villains to follow. Meow!
3.

A master thief by trade, or "Cat burglar" if you will, she uses her stealth and cat-like agility finest jewels Gotham's museums and upper class have to offer.  Three makes a party, and Batman's night just got a whole lot better.
4.

Possessing all the abilities of the common house cat she sinks her claws into the role of top female villain of all time, and it's easy to see why.
5.

Anne Hathaway's take on Catwoman brings to mind a modest kitten-like look of innocence that parallels with her younger age when compared to previous experienced cougar-like appearances of Michelle Pfeiffer and Halle Berry. 
6.

In another reality, Catwoman might actually have turned out to be a hero.  Compared to the other villains of Gotham she is actually quite docile in nature, choosing only to steal the finer things in life. Yes, she definitely is the original villain everyone loves to root for.
7.

Now I have always heard that cats like milk, but this is just taking obsession to a whole new level.
8.

Poison Ivy is Rei and Catwoman is Yaya Han
Now that's more like it, we all could learn a little something from Catwoman and Poison Ivy and putting aside their differences, all for the greater good of Gotham.
9.

Skin tight shiny black leather never looked so good. Catwoman always did have a certain insight into what's best to wear when pulling heists, while providing flexible agility when needed, and a level of unrestrained freedom.     
10.

Just as your cat at home might climb trees to catch a bird, Catwoman will scale the walls of a Gotham high-rise, in search of the infamously bedazzled yellow canary statue. As well as any other items of desire that can catch the eye of a cat.
11.

Even Gotham's finest would have a hard time saying no to this sexy feline specimen.This is one female villain who knows she's hot as hell by utilizing her sexy athletic physique to her advantage by distracting all who might oppose her.
12.

Well I guess the rumors are true, she really does have a back bat-tat, so she does have a thing for her tall dark and handsome great arch enemy, the Batman.  
13.

Bianca  Beauchamp Rubberized Got Milk?
We all know cats love milk, although I think there might be better ways to drink it than this. Although, on second thought….
14.

That notorious black leather costume is not only jaw dropping, but can get pretty hot under the collar, and must be well ventilated. Catwoman has long been the standard template for all that is Sexy in the comic genre.     
15.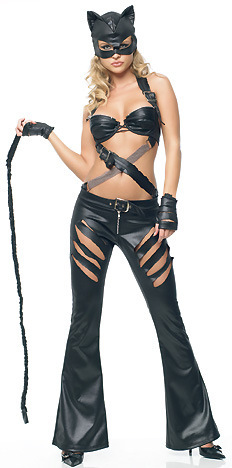 Jessica Olsson as Catwoman
Sometimes with claws like these you can not help but to rip up some of that skintight leather.        
16.

 Catwoman, Starfire, and Supergirl
Everyone knows that bad girls are just so much more fun to be around than their do goodie two shoes feminine opposites.
17.

Liz Katz Catwoman Costume
Girlfriends everywhere this Halloween should be reminded the fundamentals of good costume selecting practices, and as Catwoman seems to already know, scary is out and sexy is in.   
18.

The DC comic character has certainly made quite the impact on varying markets everywhere. From Halloween costumes to sleek and sexy night time lingerie and it's very easy to see why.
19.

Michelle Pfeiffer delivered what some fans consider to be the best film portrayal of Catwoman to date. Regardless of your fan favorite, the film lives on still to this day as a Batman masterpiece.   
20.

Possessing a dangerous but alluring array of flexible acrobatics, sharp claws, and whip-cracking authority, you wouldn't want to be on this villain's bad side.  On second thought, that doesn't sound all that bad really.
21.

Another sexy kitty Dayna Baby Lou
It is no secret Batman has a soft spot deep in his armor plated heart for this favorite feline feminine super villain of Gotham.  From hot and heavy rooftop fight scenes, always ending with the villain and heroes lips oh so close to touching, 
22.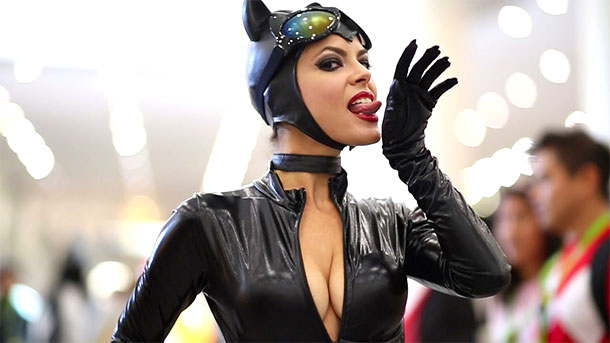 Another house cat like attribute possessed by this sexy famine feline is that of cleanliness, and by any means necessary cleanliness is next to Godliness.    
23.

There is just something so alluring and captivating in the way Hathaway's glance commands the attention of the audience. The new generation's fan favorite Batman villain is definitely off to the right start.
24.

Being a female in today's society is hard enough as it is, but simultaneously being a villain is just asking for trouble.  You're going to have to learn to be tough if this is the route you choose, and that means no crying over spilt milk.
25.

Overall we have discovered the many ins and outs of all that is Catwoman, and this won't be a lesson anyone will soon be forgetting.
Image Gallery