Top 100 Best Horror Movies You Should Watch With Your Buddies
Updated: 07 Oct 2019 9:54 pm
The five heroes of the Texas Chainsaw Massacre (2003) peer down a darkened corridor, waiting for their chainsaw-wielding assailant.
Ready The Snacks and Gather Your Buddies. It's Time for Some Good Horror Movies
Horror movies are a favorite genre to enjoy with friends and significant others; there's nothing better than all being scared together, right? Here are the top 100 horror movies to watch with your friends.
100. Hostel (2005)
Rated R for brutal scenes of torture and violence, strong sexual content, language, and drug use.
3 backpackers in Amsterdam get locked out of their youth hostel, and are subsequently invited into a man's house, where he tells them of a European hostel where the women are all beautiful, and have a taste for American men. When they arrive, they discover that the hostel is really a sadistic torture chamber. If you like a lot of gore, torture, and a chainsaw wielding baddie, then this one is for you.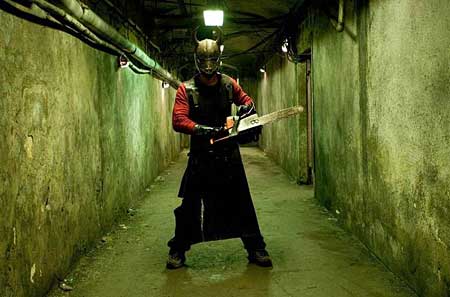 The villain in Hostel (2005), wielding the favored weapon of horror movie villains since the beginning; the chainsaw.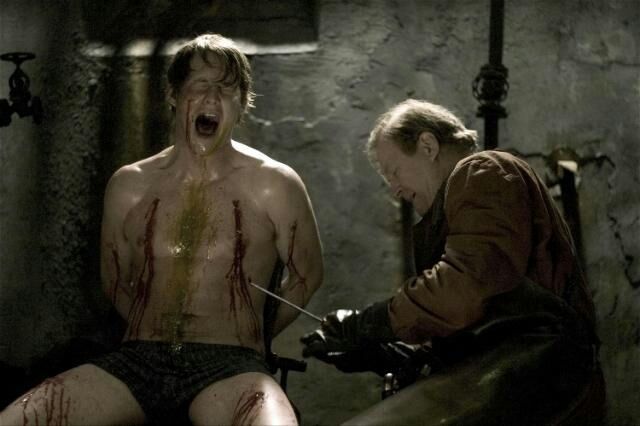 One of the characters being brutally tortured, while coated in a repulsive mixture of blood and vomit.
99. The Texas Chainsaw Massacre (2003)
Rated R for strong horror violence/gore, language, and drug content.
A remake of the 1974 cult classic, this version of The Texas Chainsaw Massacre follows 5 youths on a road trip in the backwoods of Texas, who, as youths on road trips tend to be, are unlucky enough to knock on the door of a remote cabin. It becomes evident that the cabin is inhabited by a family of inbred cannibals, and the youths must struggle to escape with their lives. For fans of traditional slasher films featuring the beloved chainsaw of horror movie lore, The Texas Chainsaw Massacre is a treat.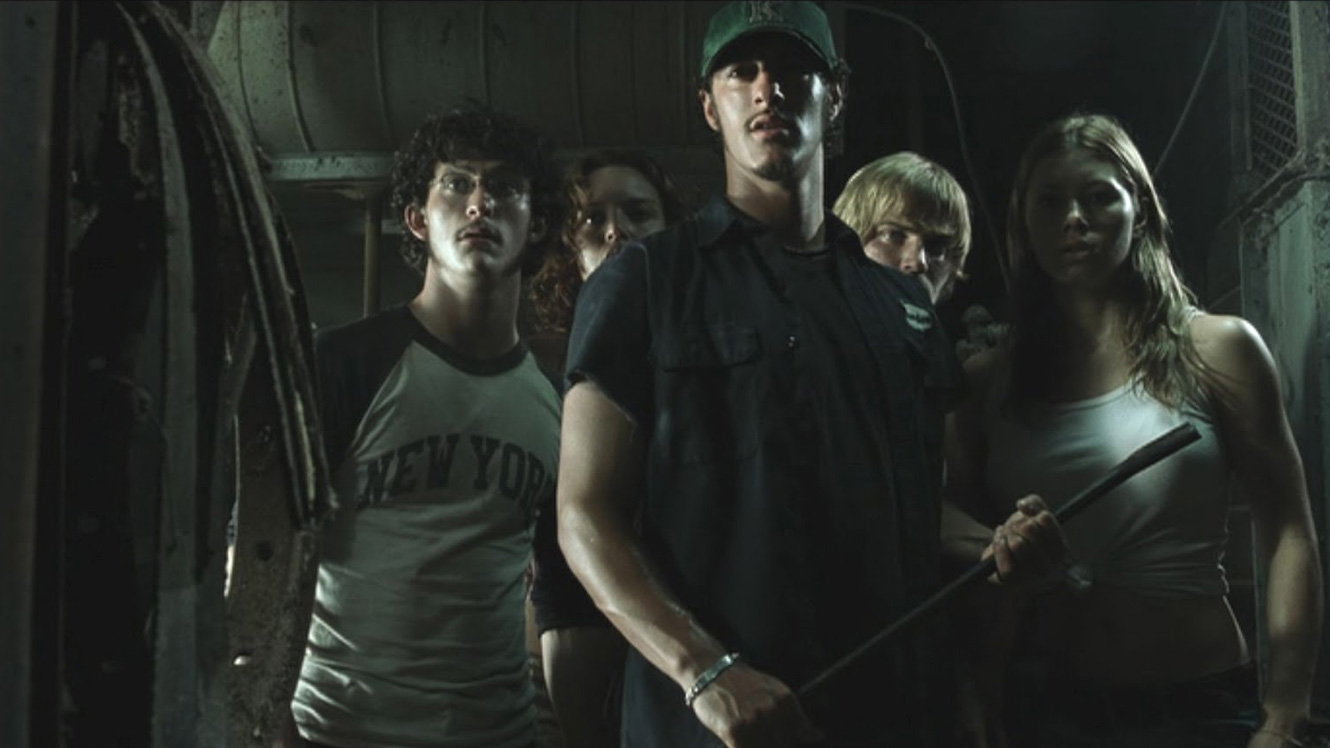 The five unlucky teenagers depicted in The Texas Chainsaw Massacre (2003). From left to right: Morgan (Jonathan Tucker), Pepper (Erica Leerhsen), Kemper (Eric Balfour), Andy (Mike Vogel) and Erin (Jessica Biel).
The reimagining of the iconic horror movie villain Leatherface (Andrew Bryniarski).
98. Paranormal Activity (2007)
Rated R for language.
A young, middle class couple moves into a suburban tract house that seems haunted by a presence that may or may not be demonic in nature. As the force disturbs both their sleeping and waking hours, the couple must fight for their peace of mind, and their lives. Fans of 'found footage' and supernatural horrors will enjoy the beginning of this iconic franchise.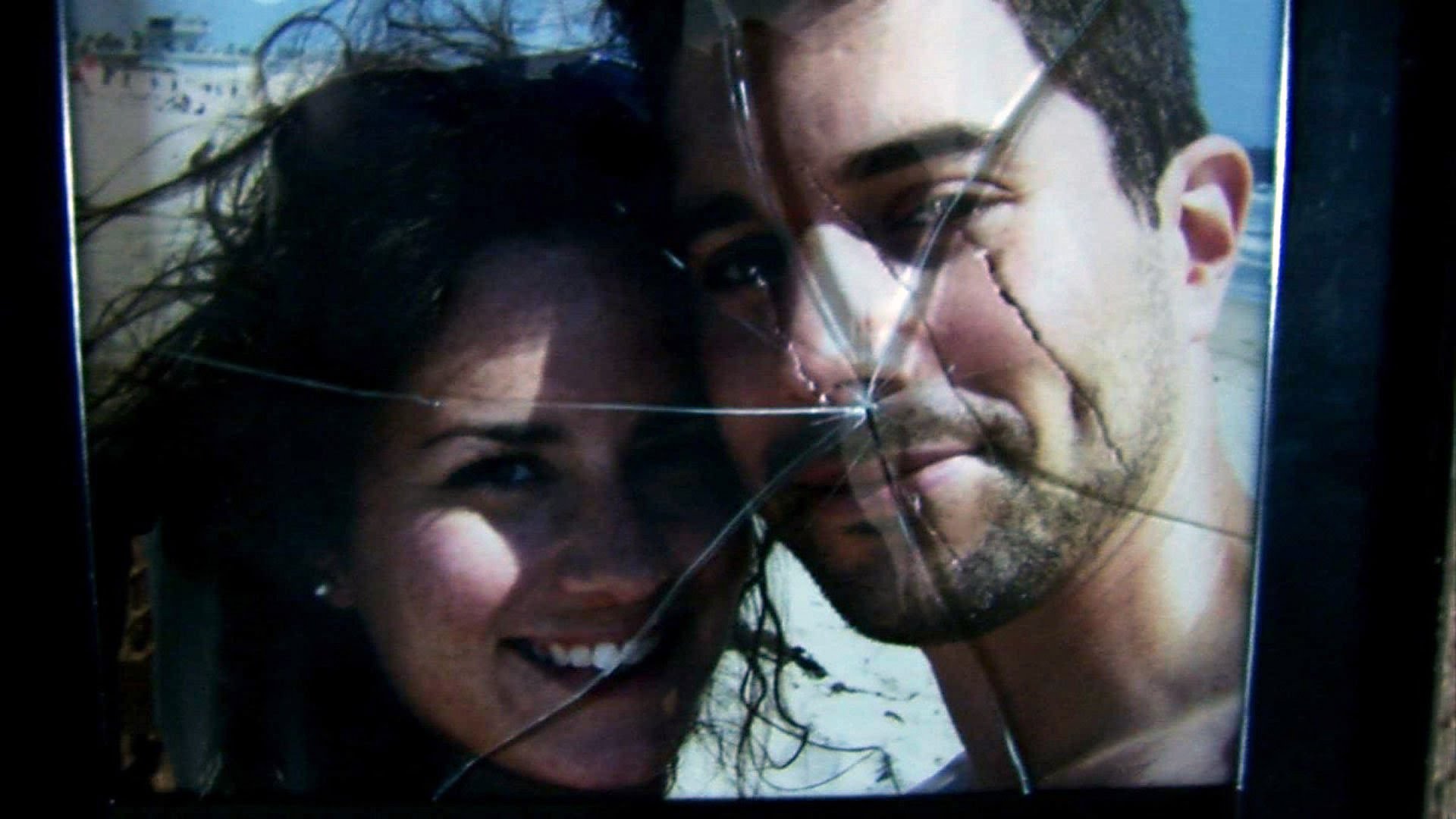 The ill-fated couple from Paranormal Activity (2007), a crack in the picture frame foreshadowing their coming demise.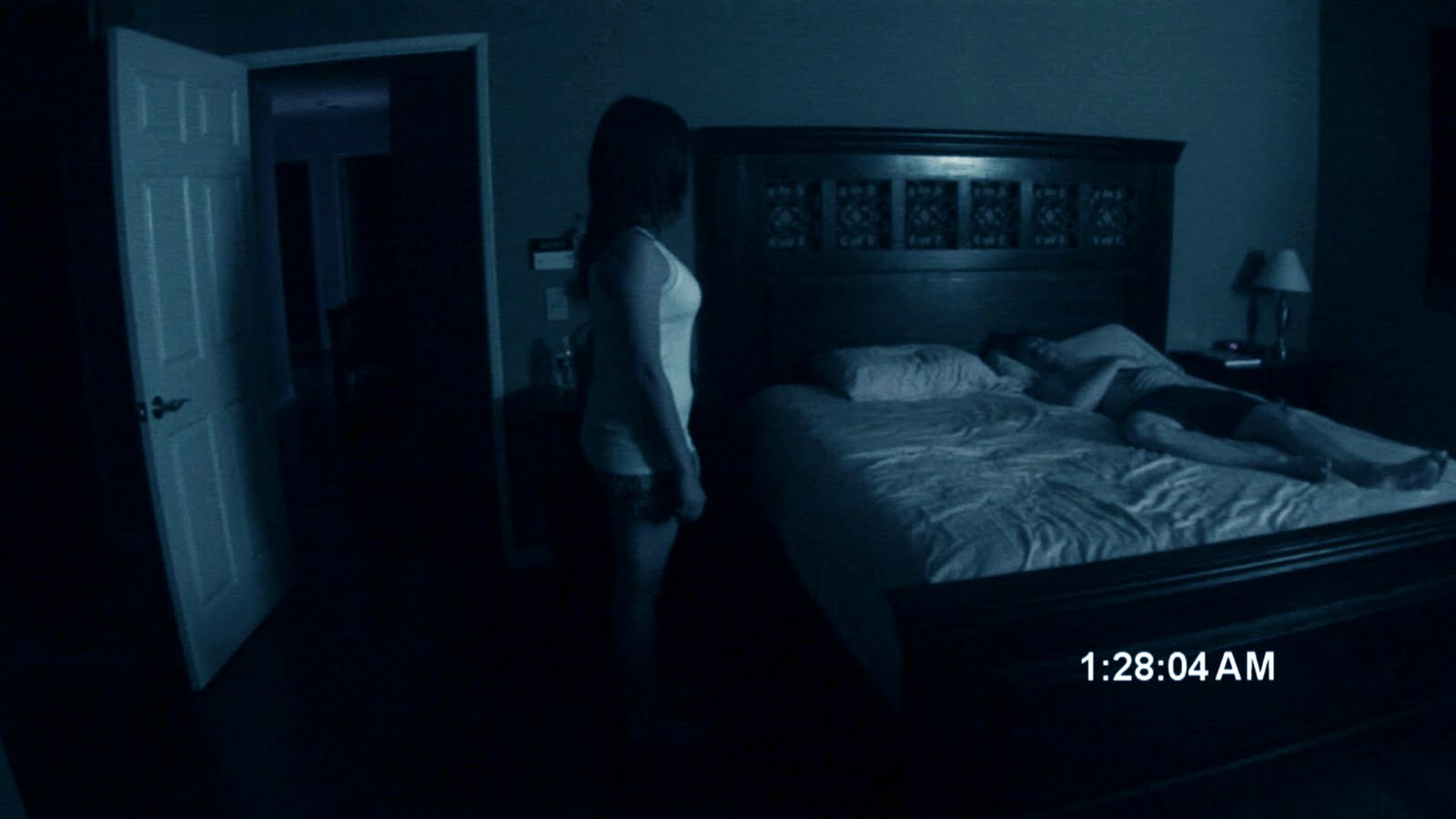 A well-known scary scene from the film, shot from the 'bedroom cam' perspective.
97. Jeepers Creepers (2001)
Rated R for terror violence/gore, language, and brief nudity.
Working within a similar vein to The Texas Chainsaw Massacre (see #99), Jeepers Creepers follows a brother and sister who witness something strange on their way back from spring break. After discovering a pit filled with mutilated bodies, Darry and Patricia Jenner find themselves pursued by an evil that is more than human. Though the film has been endowed with a silly name and a slightly ridiculous reputation, it truly is a frightening film worthy of inclusion in any horror movie marathon.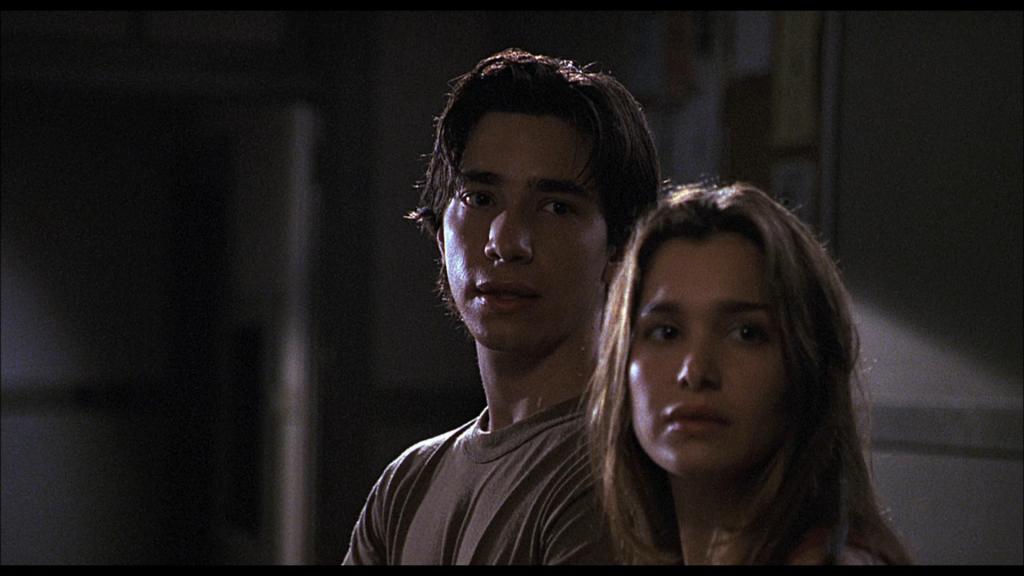 Darry (Justin Long) and Trish (Gina Phillips) Jenner.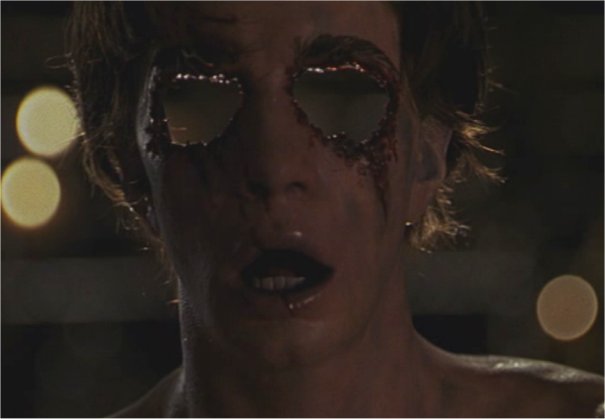 A shot from the film that is ostensibly missing some eyeballs.
96. Girl House (2014)
Rated 18A for sex/nudity, violence/gore, and language.
A pretty young college student in need of tuition money moves into a house that regularly streams content onto a pornography website. After someone hacks into the site to determine the house's location, the girls living inside finds themselves in a nightmare. As a sexy college girl slasher, Girl House is a whirlwind of porn, gore, and screaming women.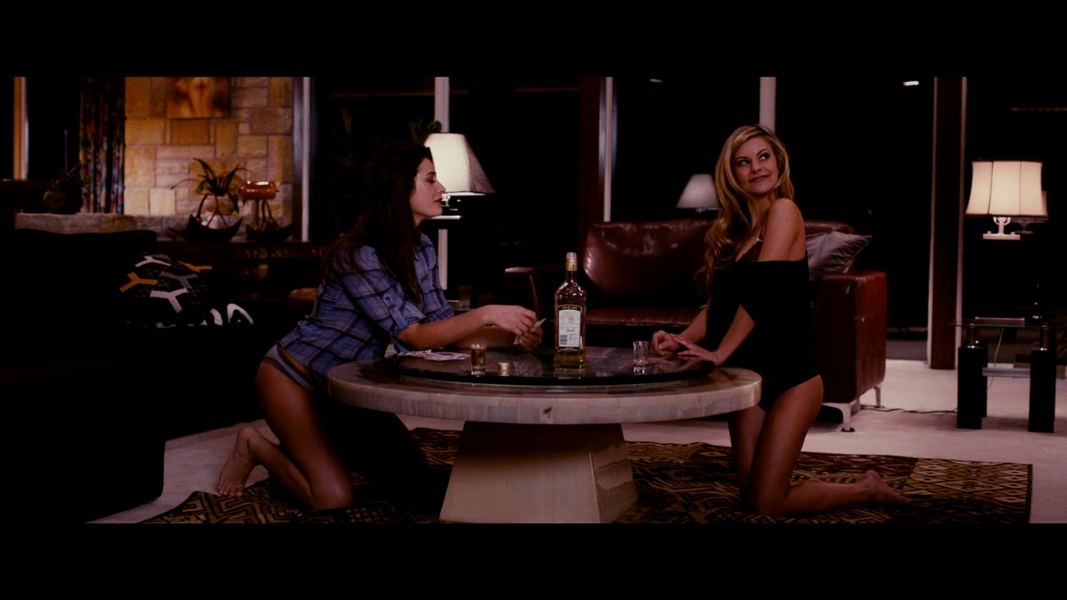 One of the beginning scenes in Girl House, where some of the main characters celebrate while clad in nothing but shirts and panties.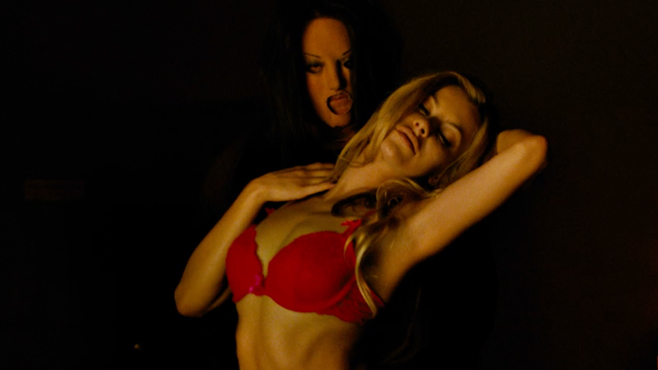 The main character is on camera when the deranged stalker enters the room.
95. Viral (2016)
Rated R for disturbing violent content, some language (including sexual references), and teen partying.
When a mysterious infection causes a small town to be quarantined, sisters Emma and Stacey decide to party it up. But when the virus begins to affect people they know, Emma, Stacey, and their neighbor Evan barricade themselves in their home. But it may be too late. A modern twist on the zombie narrative, Viral employs the 21st century fear of disease to instill terror in its viewers.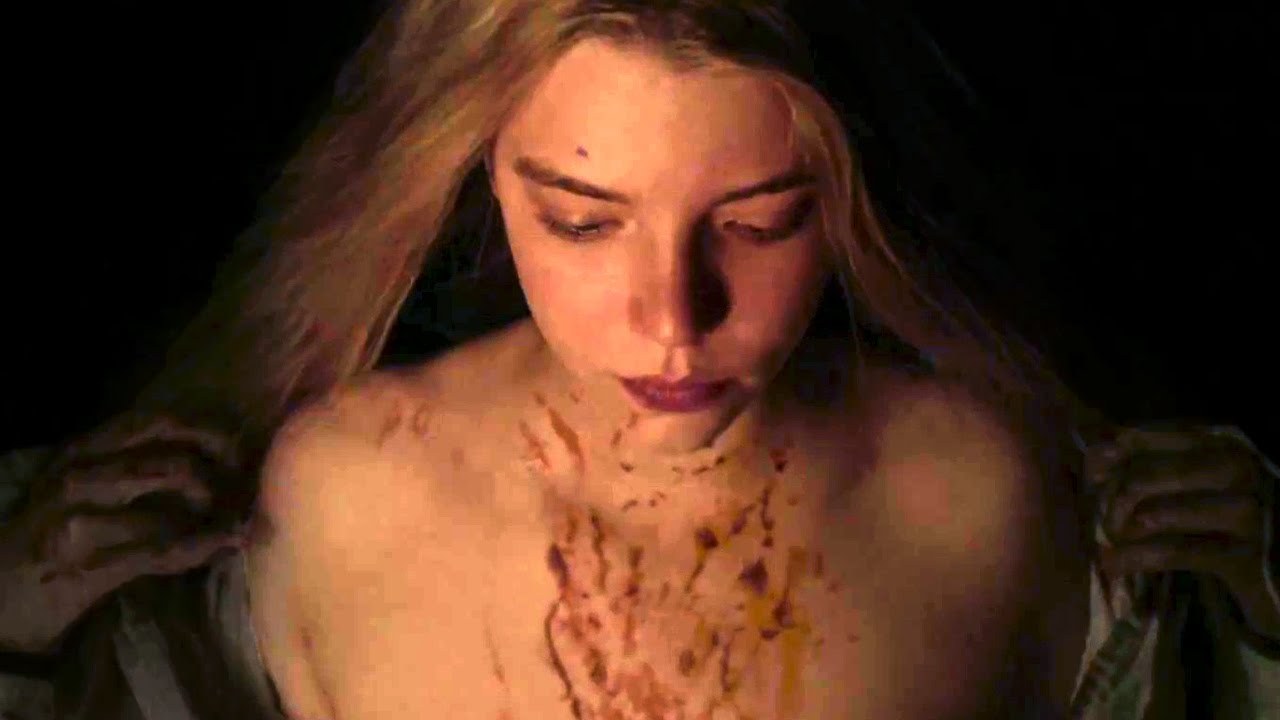 Stacey (Analeigh Tipton) reveals markings indicating she is infected with the virus.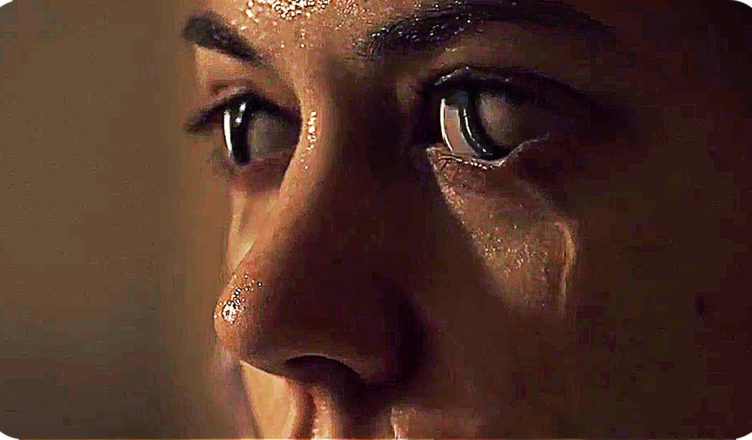 Stacey's pupils contract into reptilian slits.
94. VooDoo (2017)
Rated 18A for violence.
An innocent southern belle vacations to Los Angeles to escape her increasingly complex home life. However, escaping her past isn't quite so easy as she hoped. A hellish depiction of southern voodoo filmed in a 'found footage' style is a great addition to any indie horror movie collection.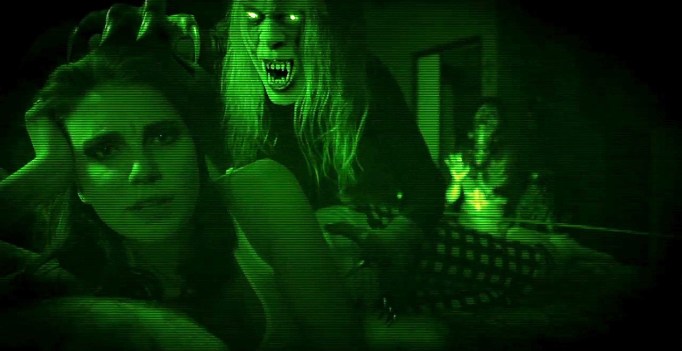 A piece of night vision 'footage' depicting Dani (Samantha Stewart) being crept up on by a horrifying demon.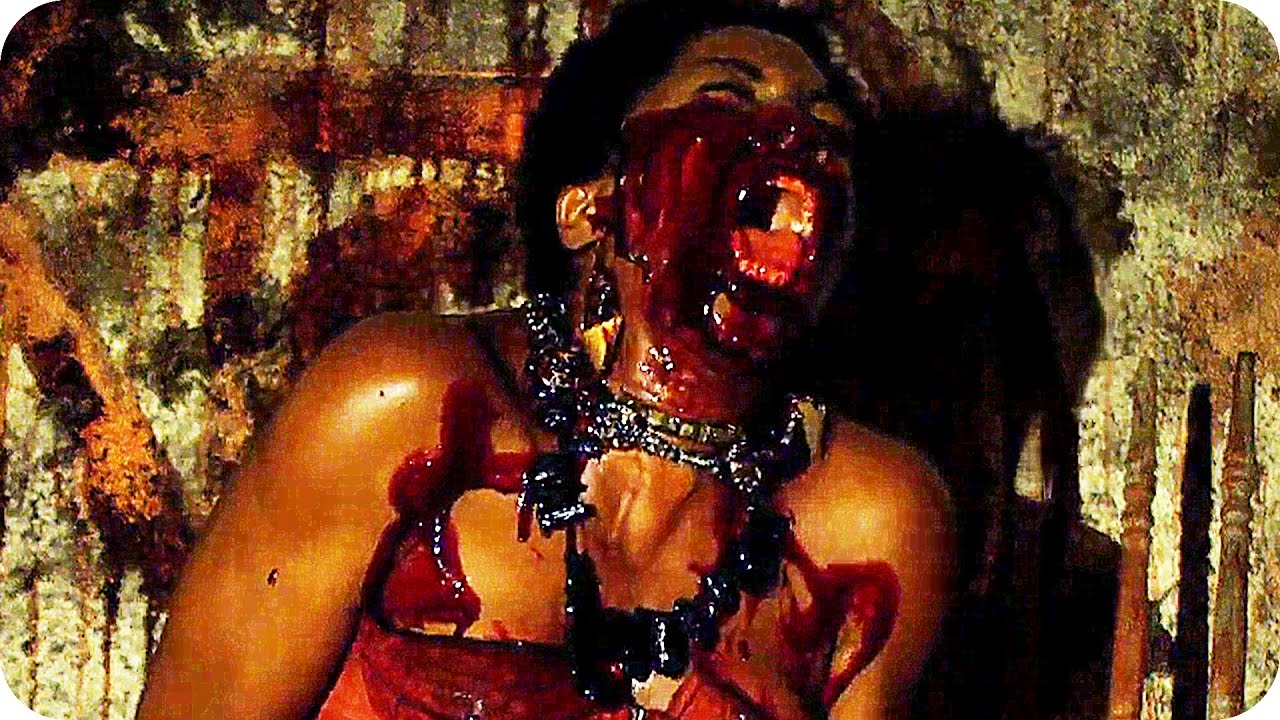 A priestess in the throes of a bloody ritual, which apparently causes Dani's misfortune later in the film.
93. Piranha 3D (2010)
Rated R for sequences of strong bloody horror violence/gore, graphic nudity, sexual content, language, and some drug use.
Something is in the water… Lake Victoria is about to welcome 50,000 spring break revelers when a horrifying discovery is made. A prehistoric species of flesh-eating piranha has been released from its dormancy at the bottom of the lake; a motley crew of strangers is now the only hope to prevent the massacre. A blood-in-the-water thriller a la Jaws, Piranha 3D will delight fans of animal horror movies and spring break massacres alike.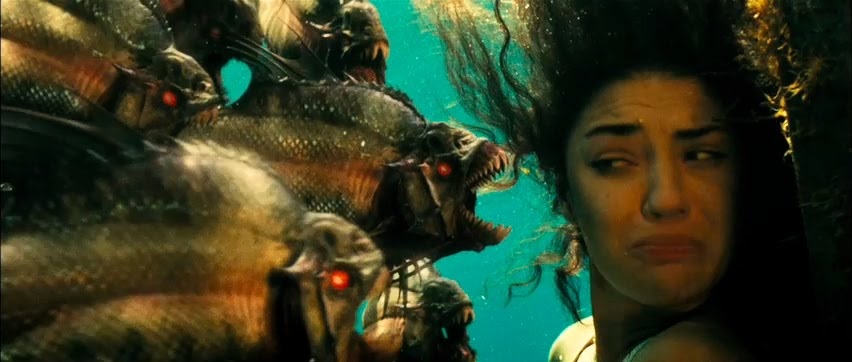 Kelly (Jessica Szohr) faces off with the vicious fish in a shot that is modeled after the iconic scene in Alien 3 (1992).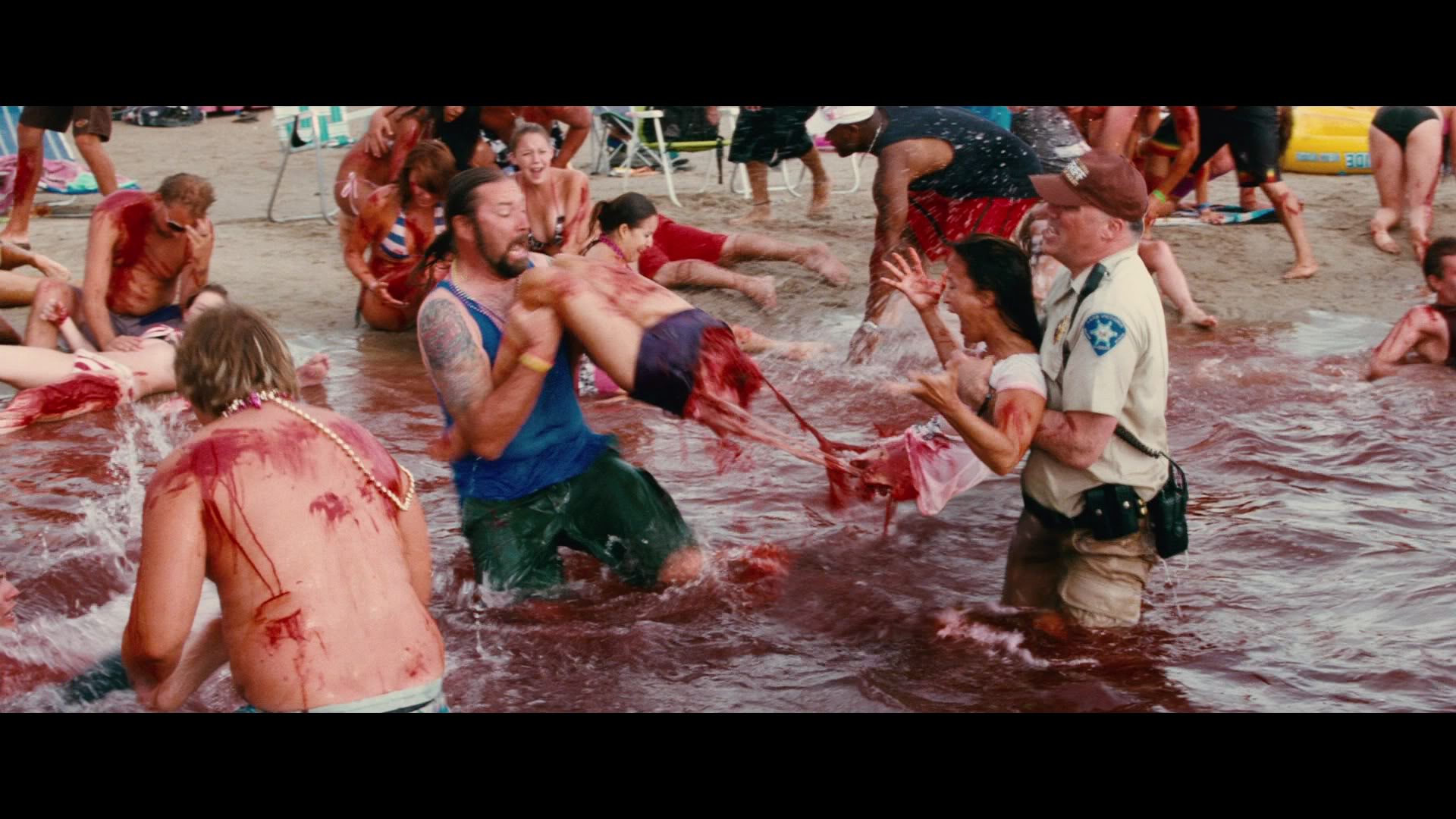 Spring breakers are launched into a panic after a piranha attack near the beach of Lake Victoria.
92. The Blackcoat's Daughter (2015)
Rated R for brutal bloody violence and brief strong language.
Two girls have been left behind at their boarding school during winter break. During their time alone, a mysterious dark force begins wreaking havoc, and they are the only ones who can stop it. As horror movies set in the early 1900s become more popular, The Blackcoat's Daughter will rise with them, its gothic themes held as a banner of pride.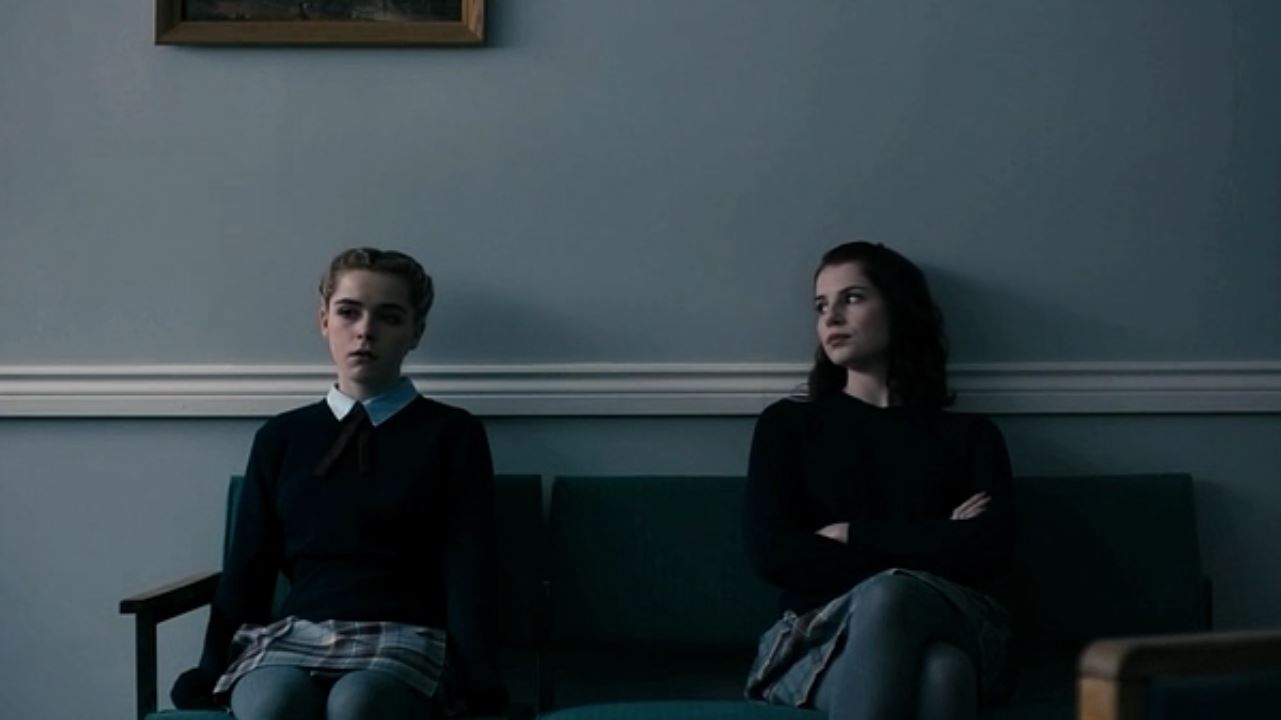 The main characters (Emma Roberts and Lucy Boynton) shortly after discovering that they have been left behind.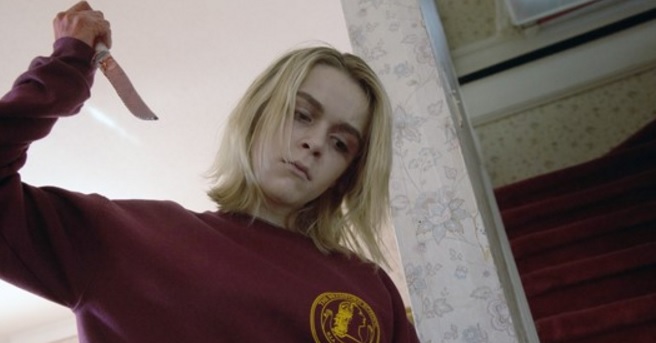 Kat (Kiernan Shipka) wields and knife in the film's climax.
91. Unfriended (2014)
Rated R for violent content, pervasive language, some sexuality, and alcohol/drug use - all involving teens
Six friends find themselves haunted by a mysterious presence using the Facebook account of a classmate that committed suicide exactly a year before. As the entity begins revealing their darkest secrets, the teens realize that they are dealing with something that is not human, and that wants them dead. A horror movie employing modern technology as a vessel of evil, Unfriended is perfect for scaring that friend that is always on their phone.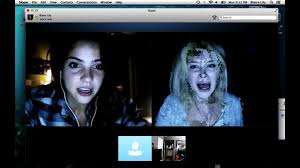 The main character Laura (Heather Sossaman) is on Skype with Val (Courtney Halverson) when she is attacked by a mysterious entity.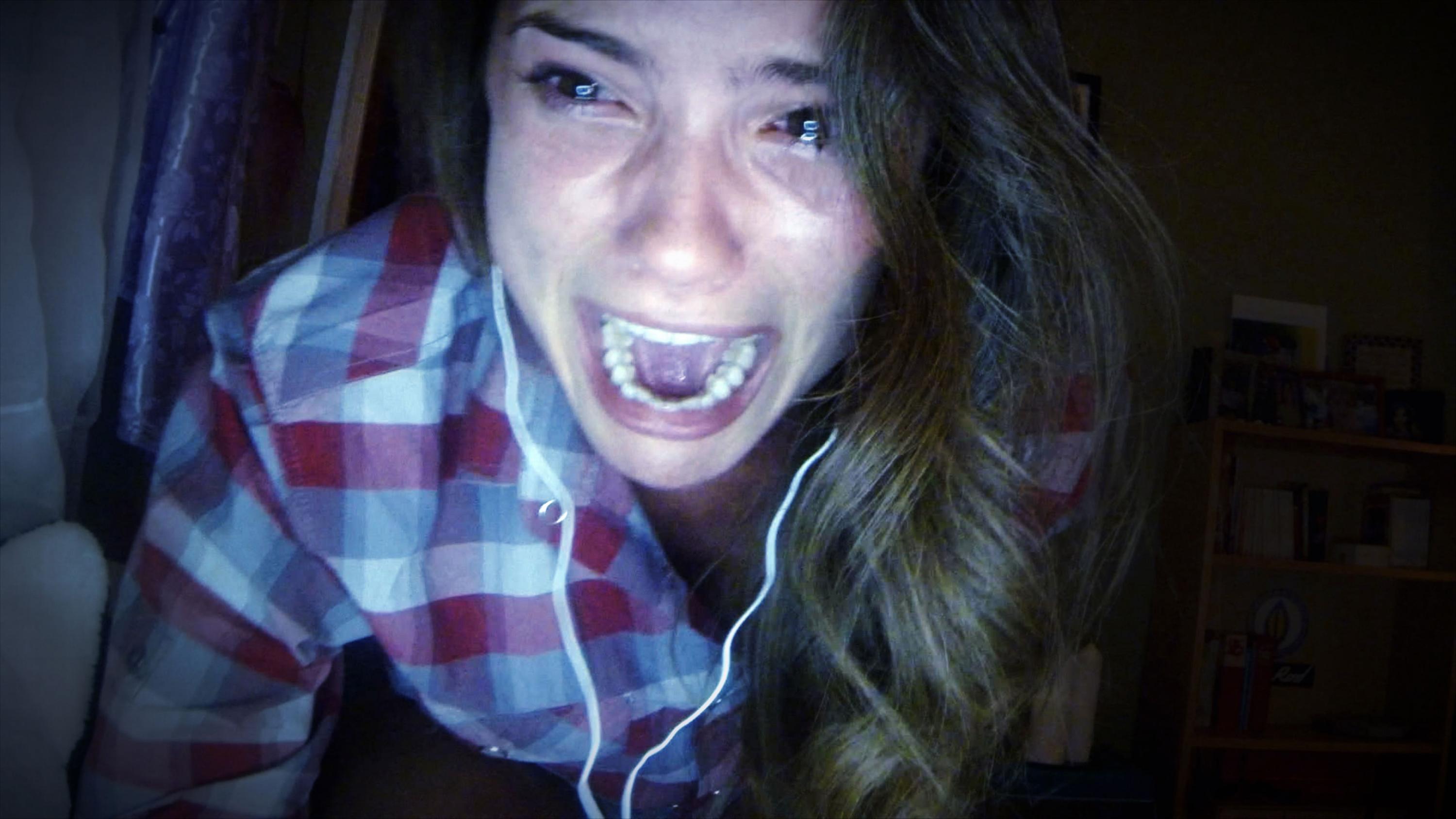 Laura shrieks into her camera, apparently witnessing the attack of another of her friends.
90. A Tale of Two Sisters (2003)
Rated R for some violence and disturbing images.
Two sisters recently released from a mental institution are accosted both by their stepmother and an interfering ghost in this Korean film. Fans of fairytale-like horror and Asian style filming will delight in this creepy tale.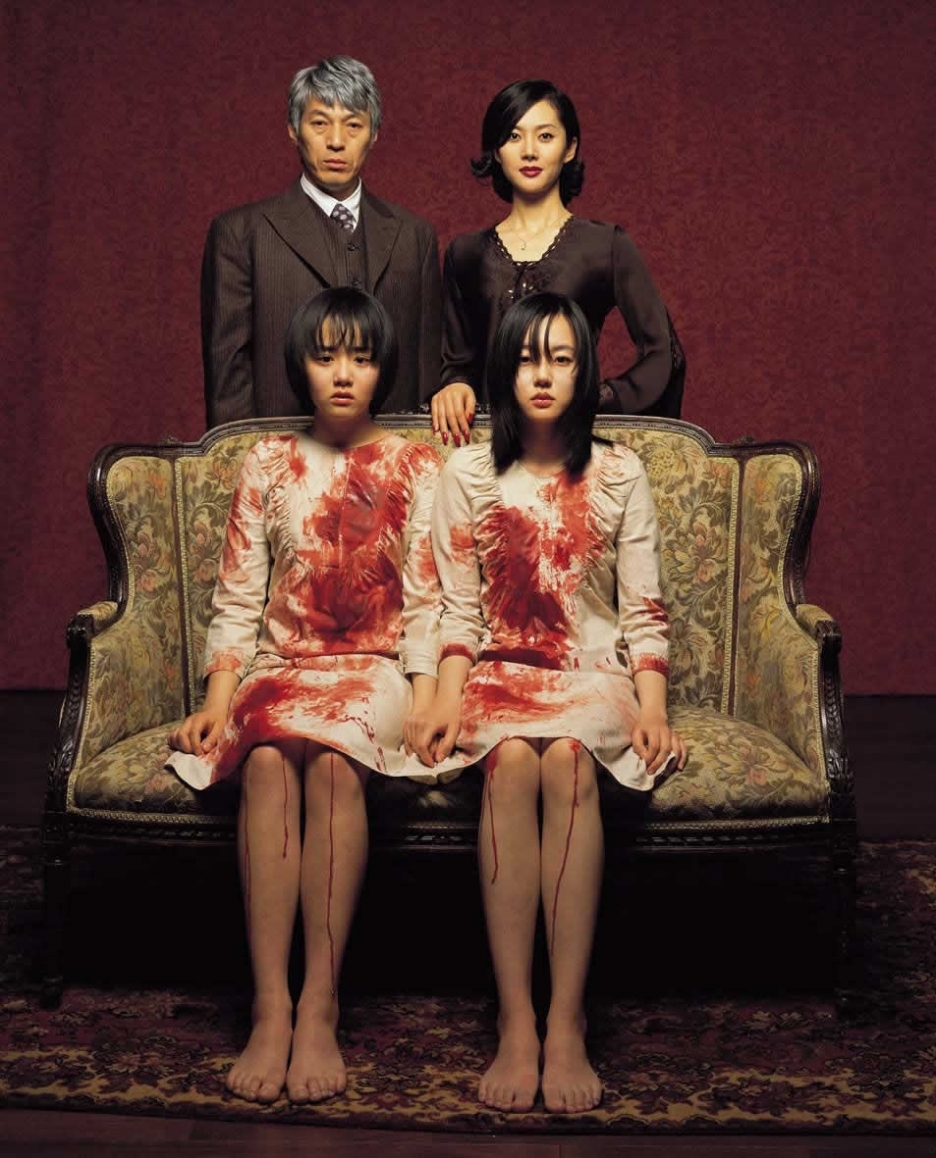 The primary image for A Tale of Two Sisters (2003), depicting the girls coated in blood in the midst of a formal family photograph.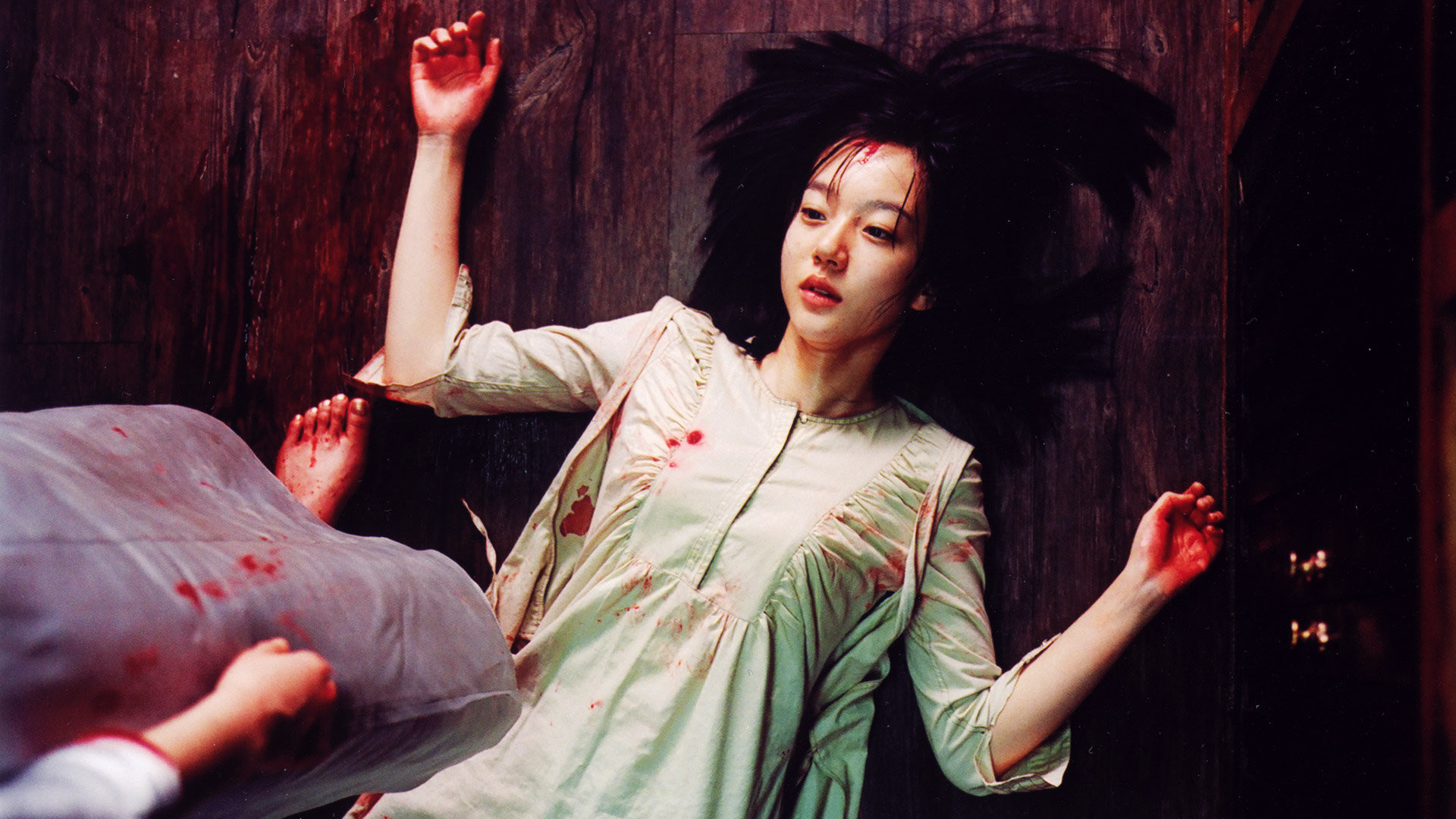 Soo-mi (Soo-jung Lim) as her sister Soo-yeon (Geun-young Moon) stands over her; both are covered in blood.